OPRA Advocacy Army
Why Now?
OPRA's provider community has done an outstanding job of protecting the people they support and their staff from COVID-19, but the pandemic exacerbated a pre-existing workforce crisis, threatening the safety net of services for Ohioans with intellectual and developmental disabilities (I/DD). More than ever, OPRA Members are willing to commit their time and resources to advocate with their state and federal elected officials for their services, their staff, and the people they support. In order to capitalize on the Membership's energy, OPRA developed Advocacy Army to arm providers, families, and Ohioans with I/DD with the skills and knowledge of how to be effective legislative advocates.
The Advocacy Army Curriculum
The Advocacy Army curriculum is an interactive experience that combines in-person training, webinars, and scheduled visits with state legislators. The curriculum combines lectures from the OPRA team, active learning exercises, and presentations from system partners.
Topics:
| | | |
| --- | --- | --- |
| State and Federal Advocacy | The Legislative Process | Planning and Hosting Effective Legislative Meetings |
| Building Effective Narratives | Mapping Relationships | The Role of the OPRA PAC |
Who Should Participate?
The Advocacy Army curriculum is designed to be taken by teams of up to five representatives from an OPRA Provider Member. Representatives can include agency administrators, frontline supervisors or direct support professionals (DSPs), people served by the agency, and families served by the agency. Each participant is expected to participate in each in-person training session and webinar. An agency may only send one team of up to 5 representatives.
Attendance will be taken at each event and tracked by OPRA staff. Invitation to additional optional advocacy opportunities after the training ends will be based on attendance.
NOTE: Teams should register together and only need to register once for the entire program. Registration is on a first-come, first-serve basis. Due to venue capacity, registration is capped at 100.
NOTE: At this current time, Advocacy Army is not currently open to Associate Members or Pubilc Entity Members.
Training Location, Dates, and Times
In-Person Training: Safari Golf Club- 4850 Powell Rd, Powell, OH 43065*

Dates: March 30th, May 31st, and July 20th
All in-person training will be held from 10 am - 2 pm. Lunch is included. In-person training will follow OPRA's COVID-19 event policy.
Webinars: Zoom to be provided
Dates: April 27th, June 29th, and August 3rd
All webinars are from 9 am - 10 am
Recorded Info Session
You can view the recorded info session by clicking here or the below image.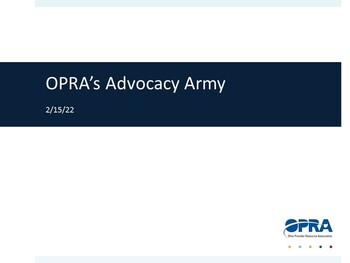 You can download a PDF version of the PowerPoint here.
Registration
Registration is now full and closed.
For more information on Advocacy Army, please reach out to Christine Touvelle (ctouvelle@opra.org), OPRA's Director of Advocacy.
*In-person training may be switched to Zoom depending on the state of the ongoing COVID-19 pandemic